In true Canuck form, the official opening ceremony for the Timeless Destinations Multi-Genre Convention began with a nod to the native tribes of Canada and a traditional Native American invocation.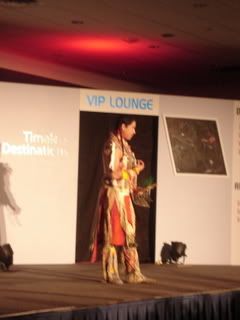 But it wasn't from just any local tribesman. This blessing was delivered by the guy that uber-directors Steven Spielberg and John Landis go to for advice and guidance on Native American culture. Travis Edward Dugas – also known by his spirit name of Knighthawk – has appeared with David Bowie and Harvey Keitel in El Mio West, as well as the feature film Dreamkeeper. He's no lightweight in the tribal community, either, as he travels the world as a motivational speaker and contemporary traditional dancer.
"When you shake someone's hand, you are shaking the hand of every ancestor who has come before them as well," he said "When we meet new people, we give of ourselves the very best of our people and those who came before us."
Dugas came out in what looked like complete tribal accoutrement, but he actually said he "dressed light" for the opening ceremonies.
"We've got six more days to go, so I thought I'd start slow," he said, promising us full regalia with feathered head dresses and paint later in the week.
And while the tribal benediction might have seemed out of place at some of the giant genre conventions, it fit perfectly here, and the crowd loved it. The Timeless Destinations vibe is very different from most of the American shows we've seen over the years, where fans go in search of that elusive collectible or the autograph from just that ONE guy. This show is more about experiences and interaction, and connecting with fans on a level beyond just a picture and a signature.
There's a lot of that, too, but it's not at the epicenter of the show, and if that wasn't evident through an opening ceremony featuring a contemporary tribal dance, then it certainly became obvious in the first panel discussion of the con.
Emerging from the stage curtain to enthusiastic applause were Blu Mankuma (Saved, Cadence and X-Files, among a few dozen other credits) and Dean Aylesworth (Anubis in Stargate SG-1, young Bill Mulder in X-Files), and I was prepared to hear a protracted and predictable cadre of questions and answers about specific episodes, gossip from the craft services table, and "What is Gillian Anderson REALLY like?"
But, I forgot one thing. These guys are character actors.
I have always been a sucker for the characters actors, classics like M. Emmett Walsh, Strother Martin, Pat Hingle and the like. These were guys who had been everywhere and done everything. And they always had good stories, like the one about the Spanish coffee. Blu and Dean followed suit perfectly.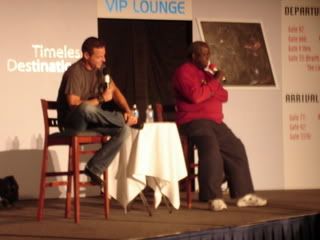 In this twosome, Dean was clearly the straight man, and Blu was the comic, floating one-liners like a bluesy, soulful Robin Williams, with a deep, gravelly voice so hypnotizing, you could get an all-day mellow just listening to him read stereo instructions.
And come on, how do you NOT like a dude named Blu.
One young actress in the crowd asked Blu about breaking into the business, and I could tell it was a question he gets asked a lot.
"When you're in the room, you gotta let those people know you're IN the ROOM," he said. "I used to be very mellow when I got in the room, trying to be professional, and then – heh… I never told anyone this one before.. It's a little trick I learned."
Blu sat up in his stool and leaned over, so we knew this was gonna be good.
"I went to audition for a role in a teen movie, Klondike Fever, and I wasn't even really sure I wanted it" he started. "And when I got there, they weren't ready for me, and so I went back downstairs and had myself a Spanish coffee. Then I went back upstairs, and they still weren't ready for me. So ---- I went back downstairs and had myself another Spanish coffee. So when they finally were ready for me, I was READY for THEM," he added, making a little like Lou Ferrigno in the green make-up and shock wig.
"Now came the call backs," he said. "And I get there, and this time they were ready for me, so I didn't have no Spanish coffee. Well, the lady who was there for the first audition warned the producers about me ahead of time, apparently, -- you gotta watch out for this guy now – and all. I walked in and I was very 'Hello, pleased to meet you,' and she said, 'Oh, a little subdued today, huh? Well, we can work with that.' And I still got the part that I didn't want, but I learned something – be aggressive. Attack the audition. Don't be afraid and don't sit there thinking you don't have a chance because so-and-so is there, too – just attack. You walk in and you say 'That's my damn part. I don't even know why you called all these other suckers in here, cuz this is MY part.'"
Dean, a lot younger than Blu, didn't have as many stories to tell, but it was clear his inspirations weren't ensconced in the genre.
"The theatre is the church, and I love being on stage," he said. "That's where you really get to delve into character and story, but that's not to say I didn't learn from being on X-Files. My experiences from this show gave me the strength to take things quietly and to learn subtlety in acting."
Blu concurred, "If you can do stage, you can do film. But if you do film, it doesn't necessarily mean you can do stage."
But for Dean, his greatest inspiration comes from whatever's next.
"I'm inspired by the next thing, whatever that is," he said. "Not being complacent. It is the thing that will keep us going."